What our homes may look like after the lock down
Home working will change how our homes will be configured and where they are located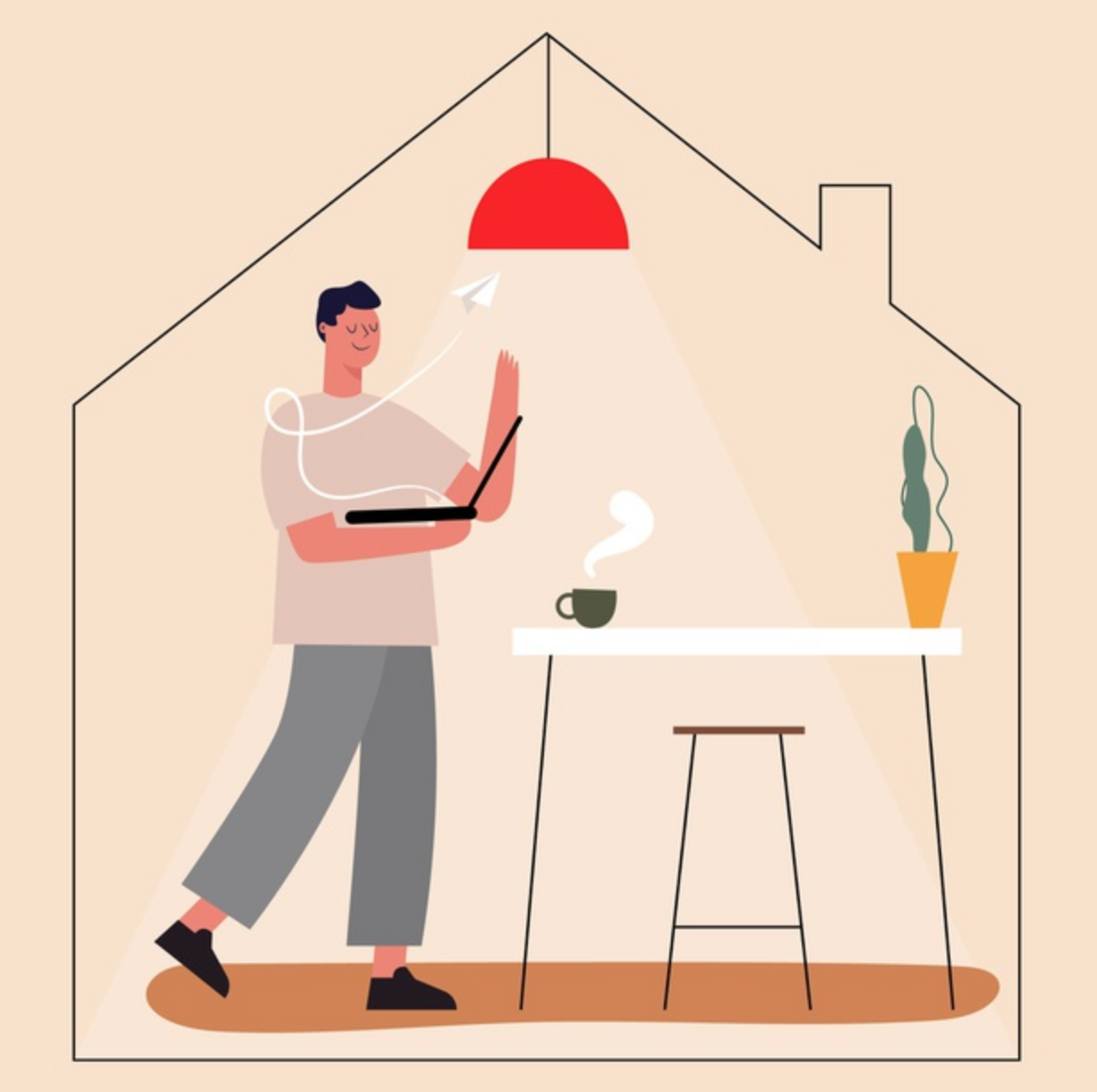 image:freepik
Working away from an office
Fast broadband, laptops, social media, messaging services, VPNs and Skype etc have enabled people to work away from a fixed office for years although take up has been hit and miss. Not now, of course. The current lockdown has opened up hundreds of millions to the experiences of working from home and discovering for the first time their homes may or may not be up to the job.
Working on a laptop in Starbucks is no longer an option, and apart from those lucky to have a study room, many people are now working in bed, on kitchen tables and in some cases a car parked outside. These are certainly short term solutions but it is becoming apparent that home working will become the new normal and popping into the office will become an infrequent occurrence. Much of this change will be driven by economics but may also reflect changes in our attitudes to health, climate change and work life balance. One thing is for sure, our current homes are not designed for this new era.
Analysis
Having had dialogue with the construction industry and various home refurbishment companies, these are some of the changes anticipated in the functionality of our homes in the future:
Escape to the country - living near an office to keep the commute short will no longer be necessary. Working from anywhere will push up country property prices and rents as people seek to re-engage with nature and enjoy a lower cost of living

Soundproofing - for many, coping with distractions will be a challenge but so will be the noise from neighbours. For flat dwellers, expect to see ceilings dropped, walls insulated and doors installed where there were none before. Open plan living will be seen as a luxury. Stud partitions will spring up everywhere

Ergonomic chairs - sitting on a fake designer chair all day long is not possible and sales of office chairs to homes will increase. Wooden floors and chairs with wheels are not great so expect to see carpets back in fashion

Faster and more reliable internet installation including use of phone tethering will be a necessity - home internet is not designed the way leased line corporate internet is and 5G will boom

Screens on walls with cameras and microphones - no more huddled around a MacBook sharing a screen: TVs will appear in all rooms along with bluetooth headphones

Kitchens will become kitchens again - the trend for a work table and a microwave being deemed a kitchen will be superseded by fully working kitchens with food storage space, bread making machines, soda streams and anything that helps us cook. Cupboards will become bigger as we stockpile delivered food

Access to outside space - gardens and parks will be highly desired to combat cabin fever and over walk our dogs (see below)

Calendars and clocks everywhere to avoid missing that important Teams / Zoom / HouseParty gathering

Smaller wardrobe space - no need for work clothes. Irons and iron boards may be trashed as we no longer need to look smart

Pet rooms - walking dogs will constitute exercise for many.

Home gyms will become popular
There are probably other changes we have not considered but for sure, your Autumn 2019 edition of House and Gardens will become a historical curiosity very soon.
This analysis is produced for general information. Any views or opinions contained should not be relied on. Although high standards have been used in the preparation of the information, analysis, views and projections presented in this web page report, no responsibility or liability whatsoever can be accepted by regeo limited for any loss or damage resultant from any use of, reliance on or reference to the contents of this document. As a general report, this material does not necessarily represent the view of regeo limited in relation to particular properties or projects. Reproduction of this report in whole or in part is not allowed without prior written approval of regeo limited to the form and content within which it appears. This document / website page is in draft and can change at anytime.