Offices of the future. They won't be in Offices.
Welcome to sound proof telephone booths. The new feature all future homes will have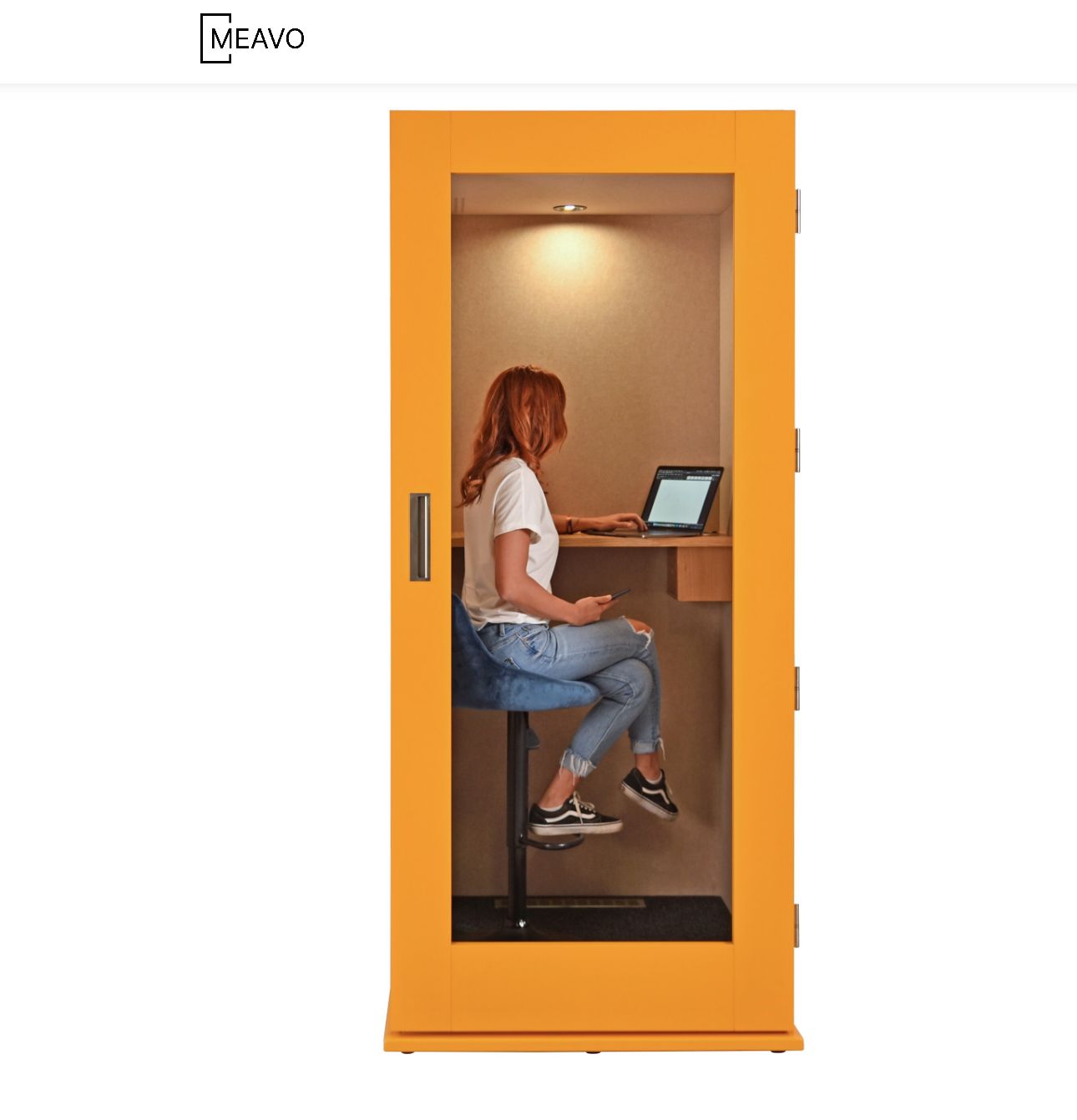 A Meavo telephone box office
Offices are places where many people work - often located in business parks or clustered in areas of tower blocks like a Financial District. There may be a staff car park, a reception desk, canteen, basement gym and rows of desks with monitors and internet cables and ergonomic chairs. Not anymore, post Covid-19.
"Putting 7,000 people in a building may be thing of the past"
(source: Barclays / BBC April 29, 2020)
"Even Warren Buffett Wonders If People Will Return to Offices"
(source: WSJ May 5, 2020)
Many CFOs are questioning the direct cost of putting staff into offices. The average UK office space for a person is about 80 sq feet. If the office is located in Mayfair, London (approx £100 sq ft plus another £100 business rates = £200 sq ft), that equates to £16,000 a year. If that person worked at home it would be £16,000 less. If the office has 20 staff, that is £320,000. And that is before the employee has even been paid.
This Covid-19 lockdown has proven many people can work effectively away from the office. Technology is also helping and along with other key drivers like reducing commuting pollution and the health risks in an office, out of office working will become the new normal. Sure there will be corporate gatherings and face to face, but these will be for special occasions. It has of course been a long time coming. So what will the new home office look like? What will the company head office look like?
Head Office
The status of big offices in the "best" locations has been a key driver of Law and Finance houses. This will continue as there will always be a need for face to face and to impress but to house non client facing employees in such luxurious offices will become a thing of the past. The new world will see offices with big reception areas and a few meeting rooms. There will be some telephone booth offices (see image) and that will be it. No gym, no showers, no canteen, no games room, no board rooms. No need for IT servers, wifi or parking spaces. No bins to be emptied, no phones to be cleaned, no rubbish to be recycled. No expensive security guards. They will look like art galleries with plump sofas and will resemble car showrooms. Form over function.
Home Office
IT systems will be in data centers accessed remotely by the employees and so mobile working will be as it is for many startups in the last few years. Using the best third party software, blockchain, facial recognition, etc, employees will be given home office equipment depending on seniority. Board members will have faraday cages, air gapped computers and extra secure VPN access to make decisions in private. The rest of us something less grand.
However this works, homes will need to be upgraded. Proper chairs. Proper computers. And probably inside pods. As many commentators are observing, a proper work study is a high requirement (including strong internet access and green open spaces) (source; Savills) for new homes and these pods will offer security, sound proofing and have a door to delimit one's life from work and play.
Offices of the future won't be in offices. So what will happen to co working spaces like WeWork? In theory they will disappear but in reality it is possible they may thrive as they are often in status locations and have many meeting rooms. Only time will tell.
This analysis is produced for general information. Any views or opinions contained should not be relied on. Although high standards have been used in the preparation of the information, analysis, views and projections presented in this web page report, no responsibility or liability whatsoever can be accepted by regeo limited for any loss or damage resultant from any use of, reliance on or reference to the contents of this document. As a general report, this material does not necessarily represent the view of regeo limited in relation to particular properties or projects. Reproduction of this report in whole or in part is not allowed without prior written approval of regeo limited to the form and content within which it appears. This document / website page is in draft and can change at anytime.